10 Best Halloween Costumes 2022 for Plus Size Women
Sep 01, 2022 by Xpluswear
Wanna be the Queen of Heart on 31st Oct.? 👑
How about spending a long time but did not find out the right plus size clothing🥻👗 that is attractive and full of expectation due to the limitation of more than size 16?
↓↓↓↓↓↓
Our plus size angel always gets stuck in the problems of trying to hide the curves and bring everyone a perfect appearance, we know it is hard for us to find a plus size Halloween costumes that are suitable and comfortable at the same time, now Xpluswear plus size collection of Special Halloween Day will help you solve this issue and make your Halloween suits dream come true.
No matter you are searching for a cute princess suit you can put on at the last minute, or a sexy plus-size black fit that will have to feel exhilarating and badass, our list of plus-size costume ideas for women includes multiple options of films roles like Ninja Warrior, Red Queen or the Maleficent, for whatever theme you're looking for, we're all set. Whether you want to buy a less-expensive homemade outfit or splurge on a more elaborate costume, you can wear them yearly.
Therefore, if you're considering what to wear for Halloween 2022, just scroll through these cute, funny, sexy, and scary plus-size Halloween costumes to get more creative ideas flowing in your head. Show off yourself at the end of October!
》》》》》》
#1🎃 Plus Size Halloween Costumes Heart Checkered Print Lace Puff Sleeves Maxi Dress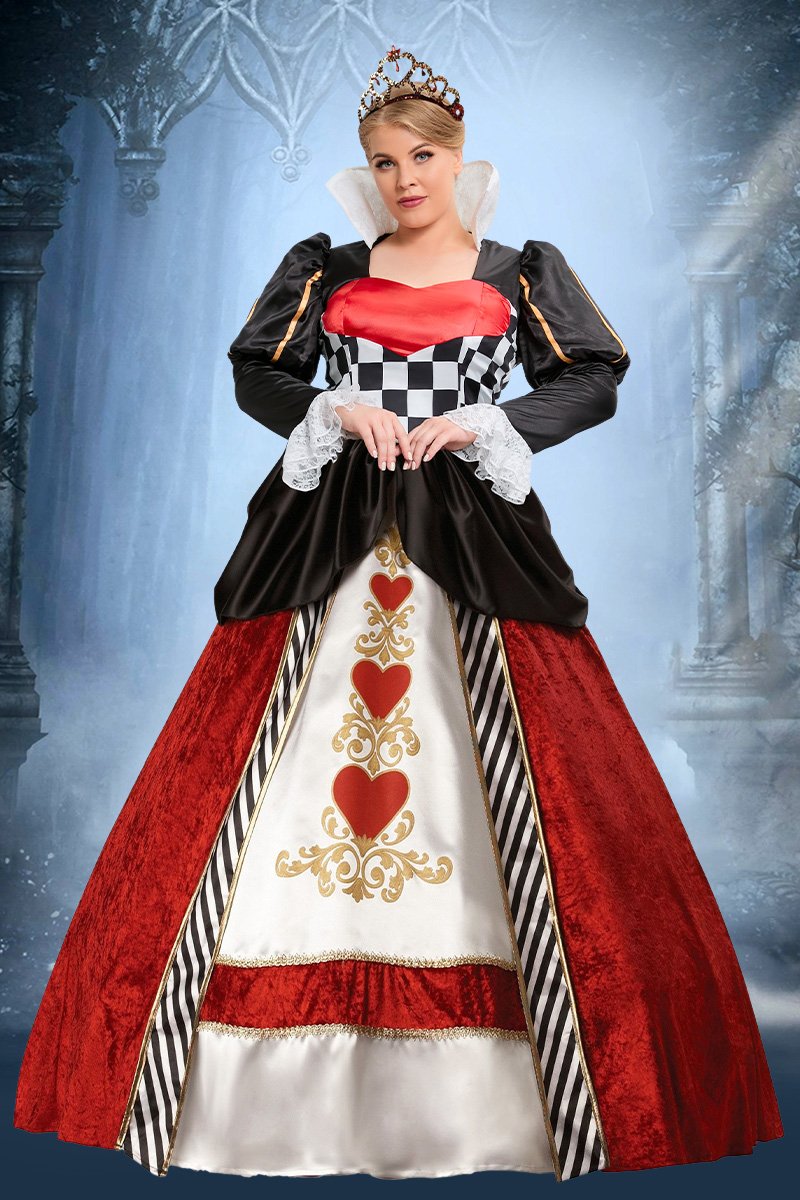 Notice! The Red Queen Comes Out!
Xpluswear stylish plus-size women's maxi dress for Halloween costumes will turn you into an elegant red queen who is ready for a severe black-tie affair. This graceful dress with Checkered Print and Lace Puff Sleeves allows you to show up to the party in style with no trouble. Made and designed by Xpluswear.com, we're sure you're going to be able to dance freely and comfortably without worrying about the size!
+ Product Details
Signature Red Queen styling gives this maxi dress costume its elegant-yet-badass aura. An attractive combination of heart and checkered print sits above a heart print gorgeous red-white maxi skirt. The golden lines show a decent appearance and have a glitter finish to make sure that you're shining out there on the dance floor!
Besides, you just need some eye-catching make-up or a scary mask to complete the look. You will find the most suitable plus size for your own from L to 5XL. When you pick up the mask, you're going to be the only Queen at your big Halloween get-together!
》》》》》》
#2 🎃 Plus Size Halloween Costumes Stripe Print Mad Bow Tie Mini Dress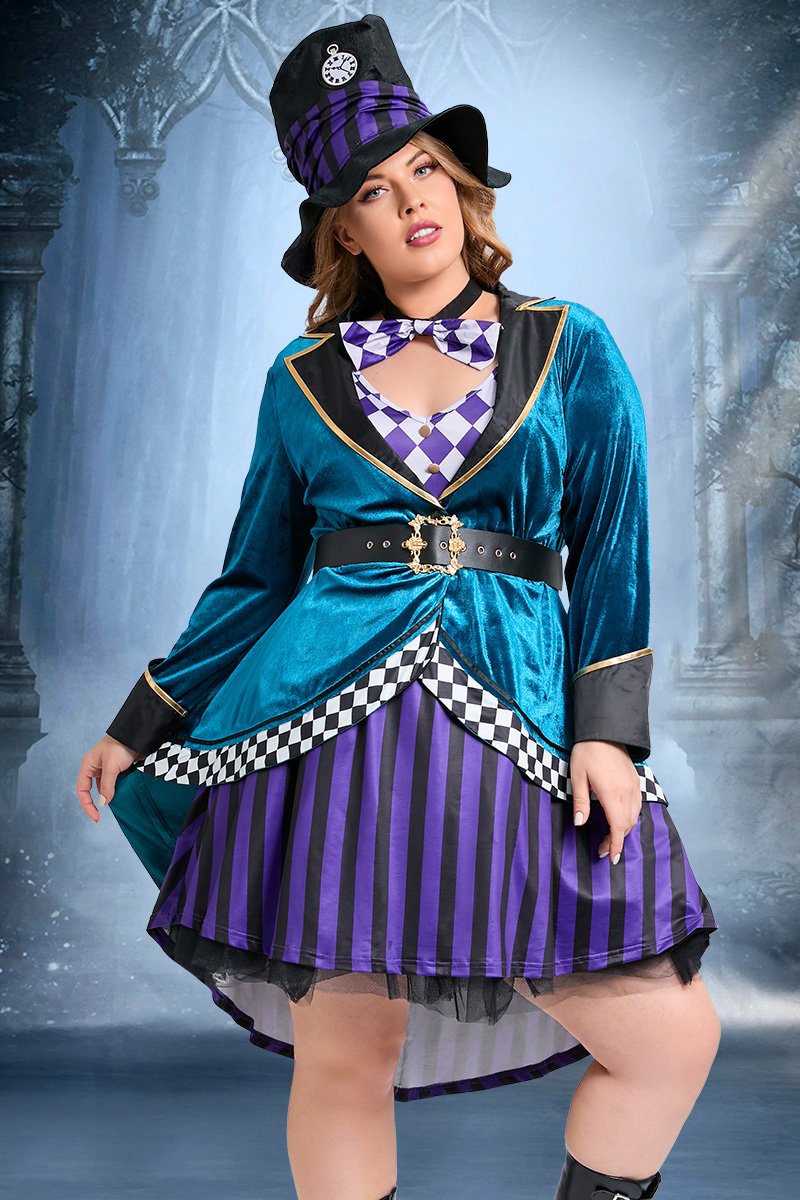 Multicolour Only, Shop for Halloween!
It's Time for Mad Hatter's Show!
This Plus Size Women's Delightful Hatter Halloween Costume from Xpluswear is the ultimate choice of female Mad Hatter costumes since there is no more popular or well-known as the Mad Hatter from all of the iconic characters that have come out of Lewis Carrol's Alice novels. It doesn't get much better than this (or better looking, for the truth).
+ Product Details
This cute item features a purple printed tank mini dress, blue checkerboard trimmed velvet high/low jacket, belt with ornate buckle, bow tie, and matching oversized hat. Grab your pal the March Hare and start the journey of Halloween! The Women Delightful Hatter Halloween Costume is the extreme Alice in Wonderland costume for your fantastic 2022 Halloween Day. Sizes are made specially from L to 5XL, no need to worry about finding the size, but it would be slightly stretchy to make you look thinner and more elegant.
》》》》》》
#3 🎃 Plus Size Halloween Costumes Hollow Out Neck Dragon Ninja Lace Up Jumpsuit (Without Mask)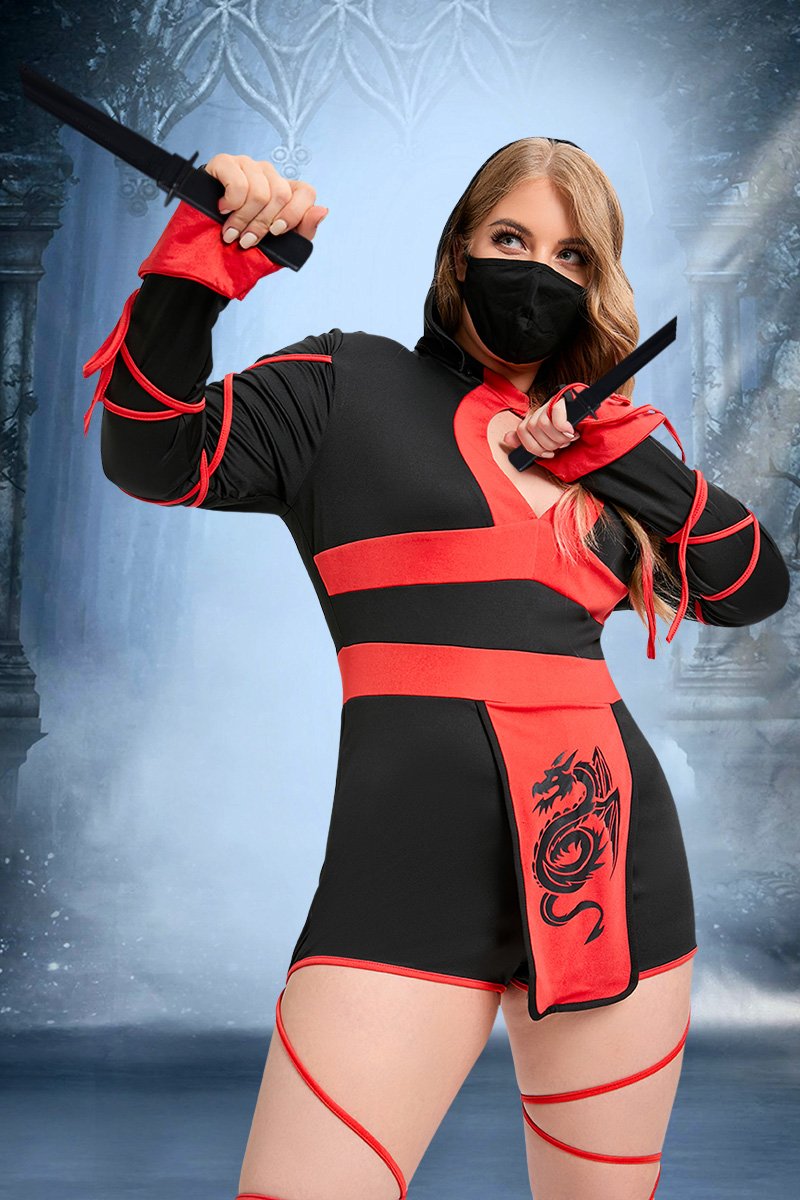 Black Only! Shop for Halloween!
A Ninja Cosplay on Halloween Day!
This Plus Size Ninja lace-up jumpsuit will perfectly make you stand out from the crowd of a few traditional cartoon movie characters on Halloween Day. Get tired of finding special-made plus-size princess dresses for Halloween? This would be your unique choice!
+ Product Details
Look at you! You look soooo sexy💄 in this Plus Size Leg Avenue's 3 PC Dragon Ninja romper costume. This deadly Halloween costume includes a hooded keyhole romper with attached leg wraps. All you need to do is plus a black Ninja face mask, to look cool, and take comfort and safety by wearing it to hide your identity while on your mission of special Halloween. Moreover, the waist sash shapes your waist and unveils those bodacious curves in a printed dragon apron waist sash. The red ropes will shape your legs while the long sleeves can hide the arm and make you sexier than other maxi dresses.
》》》》》》
#4 🎃 Plus Size Halloween Costumes Fuchsia Stripe Print Bow Wonderland Cat Mini Dress (Without Boots)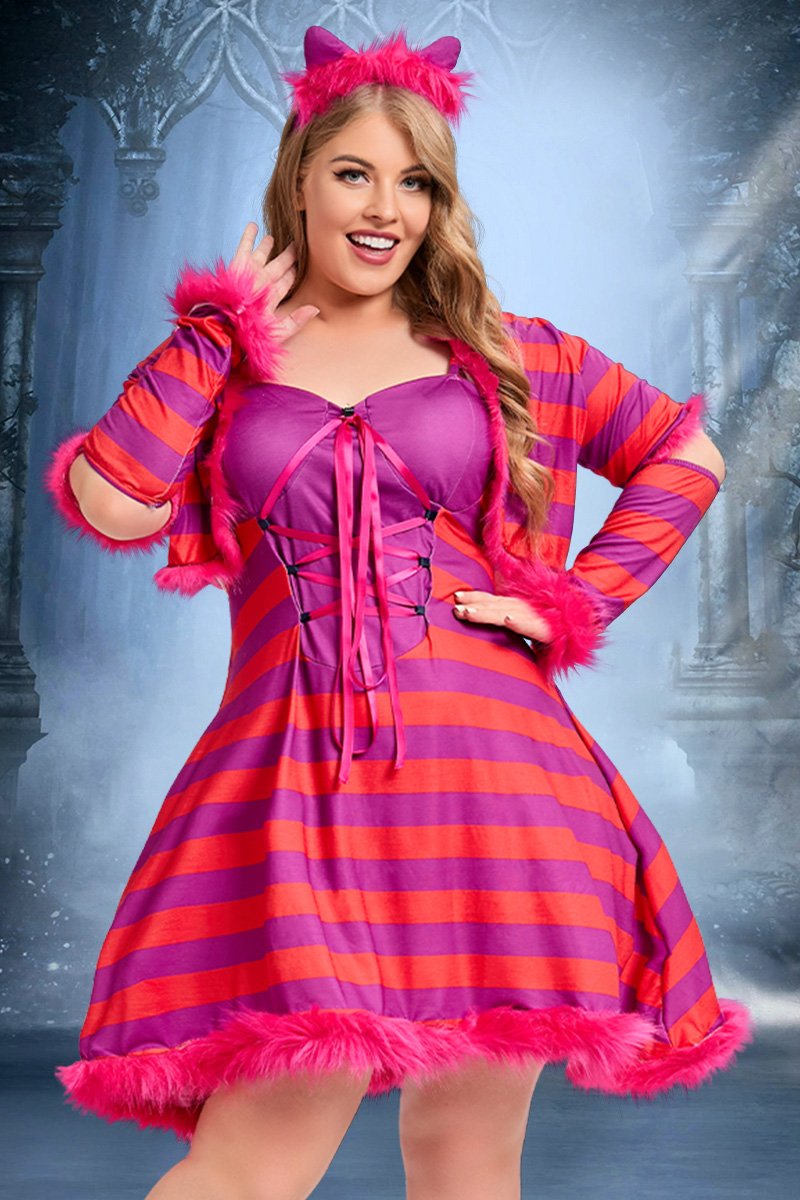 Fuchsia Only! Shop for Halloween!
A Wonderland Cat Meow in the Halloween!
One thing we know for sure is, that this plus-size fuchsia wonderland cat mini dress will make you look sexier and prettier than other ghosts and zombies, who can say no to this lovely cat while playing trick or treat at your front door?
+ Product Details
With this wonderful Plus Size Halloween Costumes of Fuchsia Wonderland Cat Mini Dress, stripe print will shape your curves in a more flattering way. Combine with this cute bow on the back, pink faux fur around the edge of the neckline, and hemline while the headband is in the shape of a cat's ear for a cute plus point. The pair of wristlets show your elegance deeply and the midi-length dress also gives you a comfortable movement when going out for Halloween Party with friends and families.
》》》》》》
#5 🎃 Plus Size Halloween Costume Colorblock Red Hood Bow Lace Up Mini Dress (Only Dress)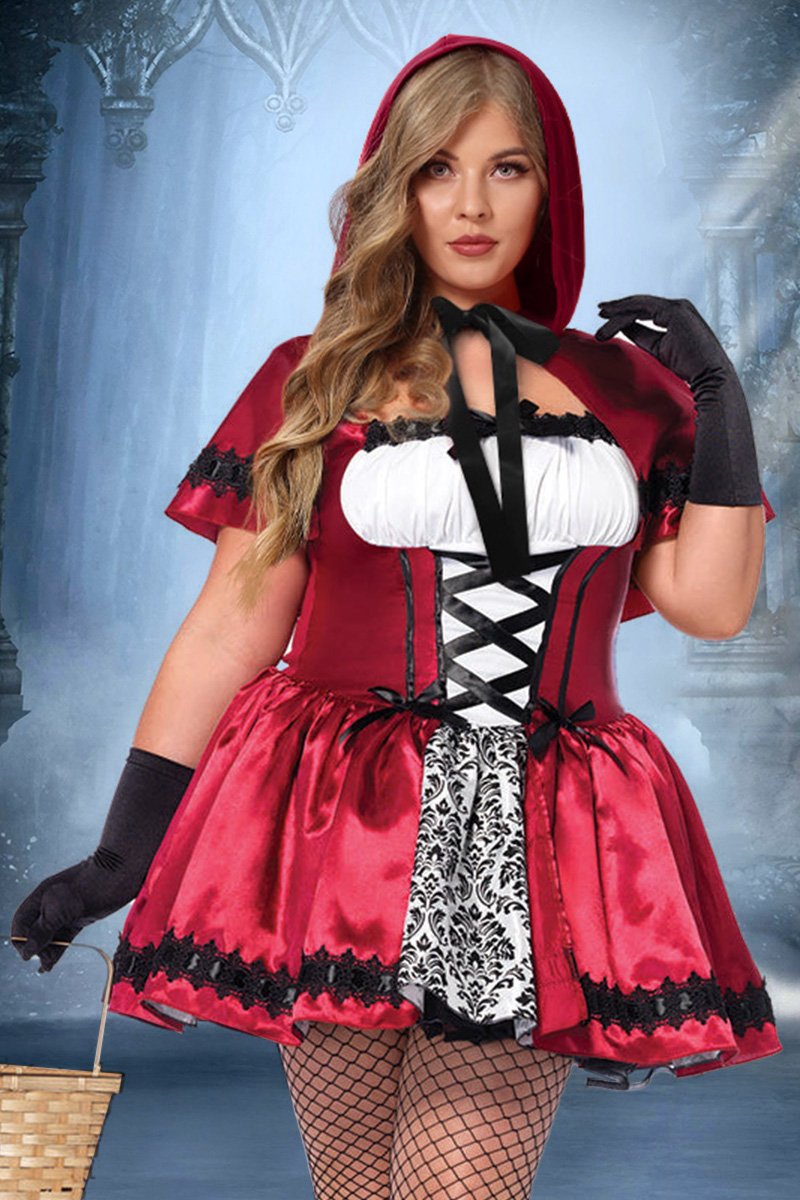 Gothic Red Riding Hood Mini Dress
Xpluswear has prepared suitable sizes of Halloween costumes for our plus-size girls. Check this plus size pretty and sexy red mini dress out in our collection of plus size Halloween costumes. Enter this fantasy world with fairytale costumes from Xpluswear. Whether you're late for a date with Alice in Wonderland or are truly the fairest princess, we've got the sexy Halloween costume looks to take you into another world. Which princess do you prefer? Sleeping Beauty, Snow White, and Cinderella or storybook babes like Little Red Riding Hood? Or maybe you're a bad girl? Choose from our fairytale villains for a costume look that's badass and sexy.
+ Product Details
The combination of a short sleeve and hooded cape perfectly shapes our shoulders and the lace decoration around the edge of the sleeves and mini dress are ready for your elegant appearance. Satin materials accentuate the waist and give you a sense of comfortable and flattering as well. This classic costume with a sexy Gothic spin will make you amaze all the creatures on this special night. The details of woven ribbon Venetian lace trim and significant red riding hood are apparently making you the highlight of Halloween Day.
》》》》》》
#6 🎃 Plus Size Halloween Costumes Black Spider Print Cold Shoulder Mini Dress (Only Dress)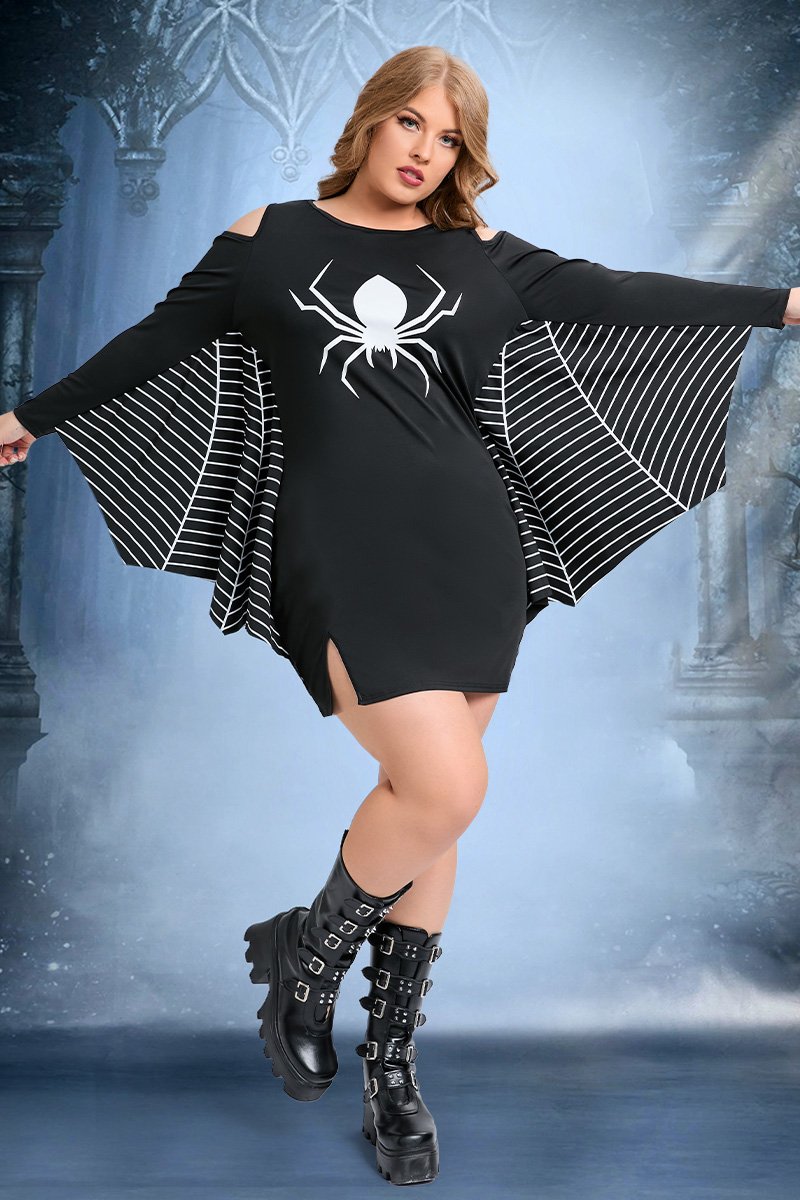 Black Only! Shop for Halloween!
A Graceful and Beautiful Spider Lady Is Here!
There's no better way to celebrate the grace and beauty of the spider web than to wear it on yourself with this fashionable and stylish plus-size spiderweb Halloween costume. No matter whether you're pairing this dress with cool black jeans and shiny boots or sexy stilettos, you're sure to the most elegant spider lady dancing on your web. Cold shoulder with long sleeves shows your charm and plus high heels and silk stockings will show your glamours. It can be dressed up not only at the Halloween Party but also at whatever friends gathering you want!
+ Product Details
Plus size Halloween Costumes for Women is the best party cosplay costumes for Plus Size Girls. This black jersey with spider print on the front and attached wings with webbing print will get you many compliments. Plus the black long sleeves is nice for the late fall, since the weather may get a little colder, and the black web cape can nicely hide your curves in the dark, with the combination of pantyhose or stockings and boots is an excellent way to make you stand out.👠
》》》》》》
#7 🎃 Plus Size Halloween Costumes Red Cloak Lace Up Maxi Dress (Only Cloak And Dress)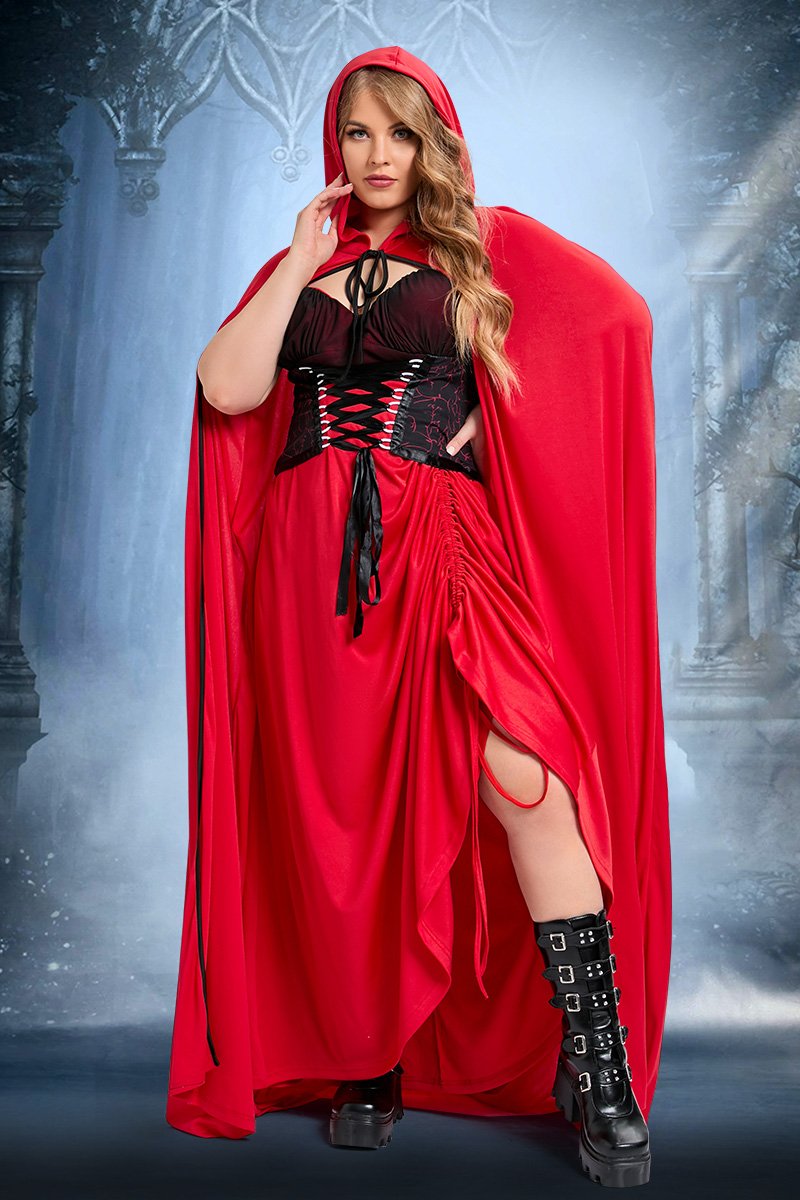 Get Ready for the Amazing Red Witcher!
Feeling worried when choosing a plus-size girls' Halloween costume? Trying to look sexier with hidden curves? A Plus Size Dark Red Riding Hood Costume from Xpluswear can be your wonderful choice of being an evil red witcher! Get sexy in this mysterious hood and let's enjoy the hunt!
+ Product Details
The red interlock floor-length pullover maxi dress has black stretch velour corset bodice which perfectly shapes your curves. Plus, the dress side is designed with a drawstring for you to adjust the height of the split, lower for elegance and higher for sexy. 100% polyester interlock knit and stretch velour fabric ensure your comfortability and flexibility as well. Black satin ribbon edging & lacing over dark red bodice inset panel black mesh overlay. Red organza ruffle and small red satin rose at the neckline are both designed to show this graceful and beautiful red witcher.👢
》》》》》》
#8 🎃 Plus Size Halloween Costumes Colorblock Lace Up Flared Sleeves Hooded Mopping Robe (Only Robe)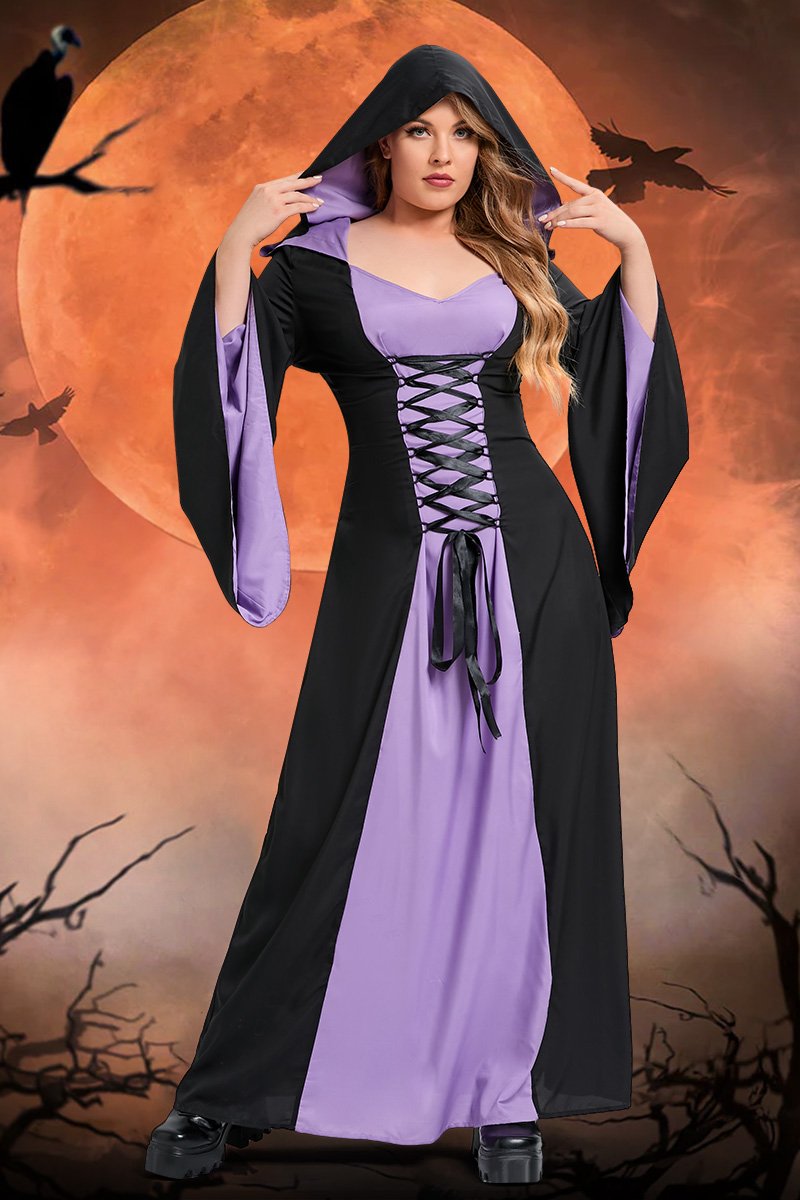 Black-Purple Only! Shop for Halloween!
An elegant witch is Working Her Magic~
With this Plus Size Deluxe Hooded Robe Costume of Black and Purple, you will definitely impress everyone at the end of October! Xpluswear offers you this stand-out option of a plus-size Halloween costume collection. Just put it on and lead us to your magic world~💍
+ Product Details
You must be the queen of the witcher world in this gorgeous plus size mopping robe of Halloween costume, the combination of black and purple color block long flared sleeves deeply shows your mystery and elegance. Lace-up decorates your waist for shaping your body curves perfectly. You are going to tour your black kingdom on Halloween Day with this magical black maxi dress, paired with your special black witcher hood.
》》》》》》
#9 🎃 Plus Size Halloween Costumes Black Skeleton Print Tulle Long Sleeves Midi Dress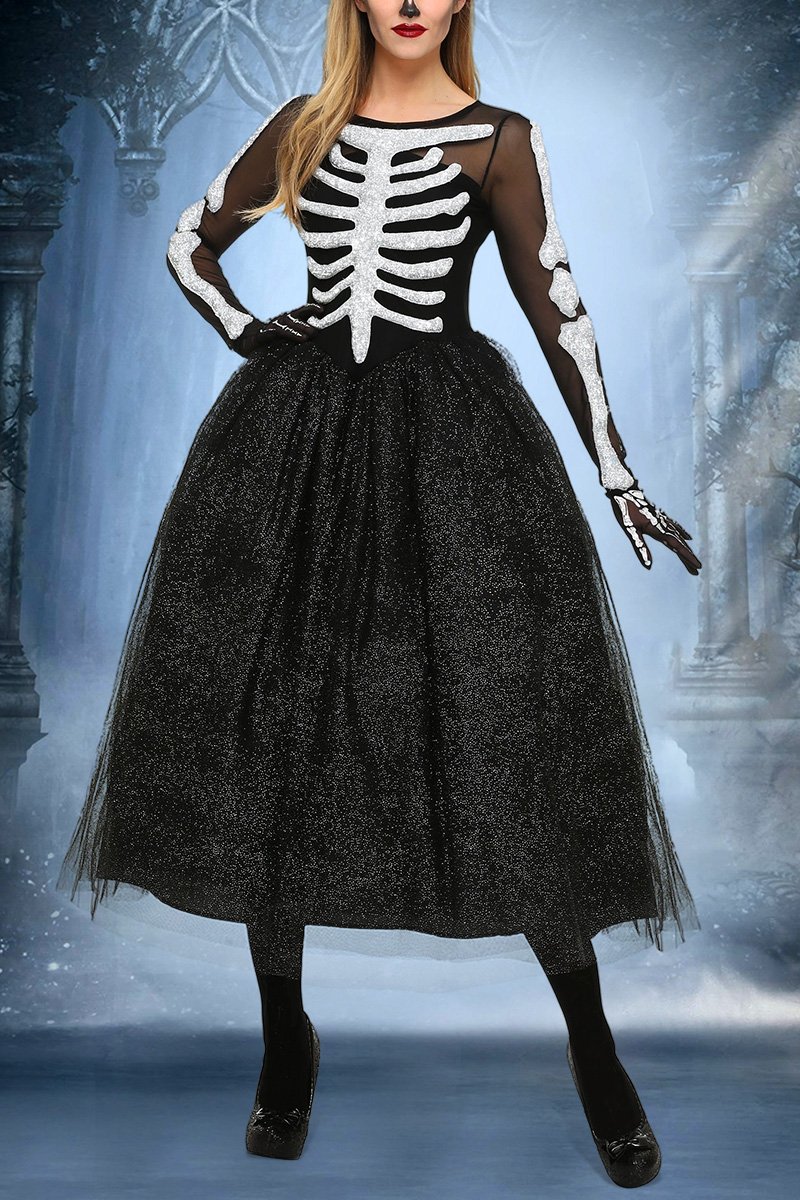 Black Only! Shop for Halloween!
Classic Plus Size Halloween Custume of Skeleton Dress
Pretending the ghost? This Xpluswear plus size women's Skeleton beauty dress is a unique take on a classic Halloween theme for our beautiful plus size girls! Get ready for the graveyard ball and treat-or-trick game when you go in this Skeleton shiny midi dress!
+ Product Details
Designed as a glam take on classic skeleton suits, this dress is a classic Halloween selection. Long mesh sleeves with the awesome 3D shapes of plush bones show more loveliness and keep you warm during the late fall party. Skeleton print in the front will catch everyone's eyes, plus the glittered tulle black midi dress surely let you stand out gracefully in the crowd
》》》》》》
#10 🎃 Plus Size Halloween Costumes Black Witch Maxi Dress (Without Hand Stick)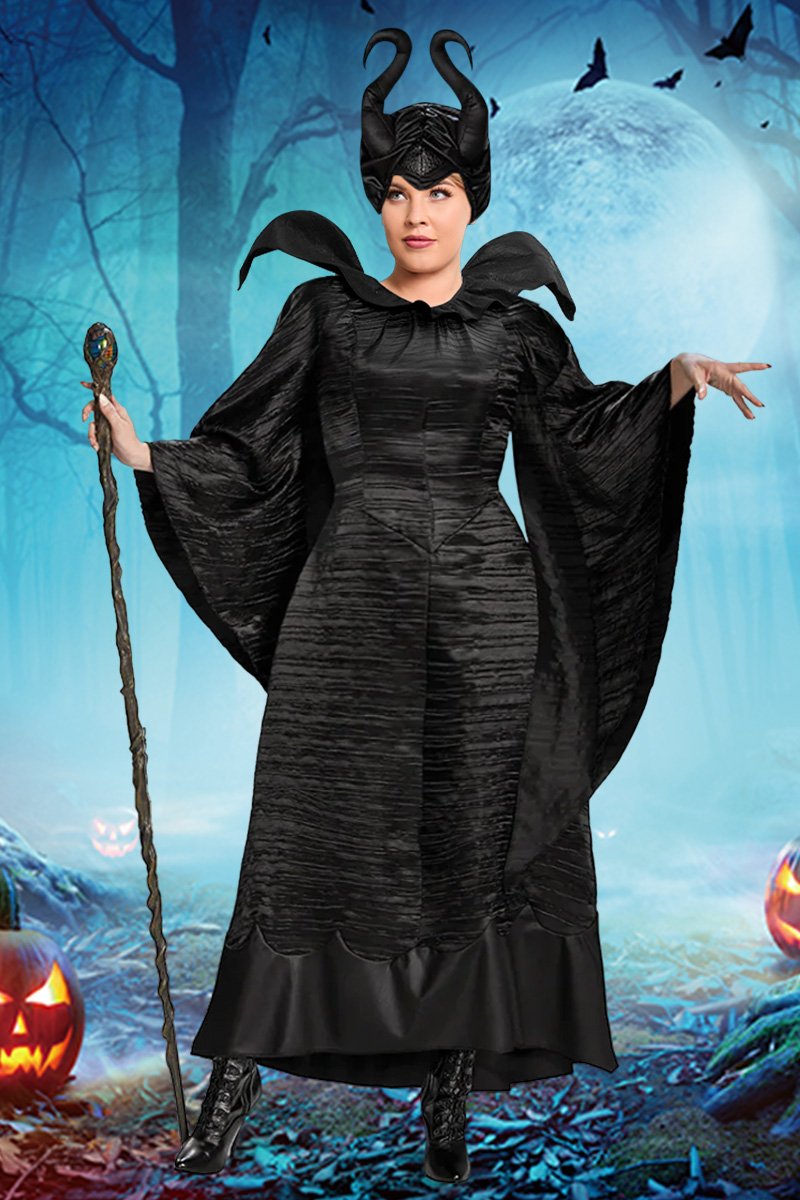 Black Only! Shop for Halloween!
Plus Size Black Witch for Halloween Costume
Just try on this gorgeous plus size black witch maxi dress that Xpluswear has already prepared for you, and your magic will work on the night party of Halloween's Day~Play the role of the witch of Maleficent, and you will become the Angelina Julie with this wizardly one-night magic.
+ Product Details
Wearing the witcher hat and spell out your magic without the hand stick! 100% Polyester material will make you feel comfy. Besides, long black tiered sleeves and graceful black tiered maxi dresses can both hide your curves and keep you warm during the late fall weather. The black wings on your shoulder show everyone you are the most beautiful and elegant black angel. Headbands with horns will also decorate your amazing appearance with more fun and loveliness. Whether it's Halloween Day, Birthday parties of lovely friends, or even a fun-filled night, the black witcher will show everyone her beauty and her magic!
Xpluswear Fashion Blog for Plus Size Angels - Halloween Collection
Updated 18th Aug 2022
Luna Washington, a plus size freelance writer and fashion editor for Xpluswear.

Let's get wicked hot on All Hallows' Eve!
*Special Collection for Halloween costume Ideas