After getting through a chilly and dull winter, we greet the spring full of hope and vitality. Even better, the live music festival, Coachella, comes in a new, exciting, and energetic power.
Coachella, the edgy music festival, will be held in California from April 14–16 and 20–23, the two weekends in 2023. Its comeback will bring in an array of interesting, sexy, and new music festival styles.
There is no denying that Coachella has become a popular place where aspirational fashionistas and even celebrities can express their crazy and super creative summer outfit ideas.
You need to consider what you are going to wear for this music festival once you know where and when Coachella will be held and have tickets and friends to go with.
To make your job easy, we have collected plus size taylor swift outfit ideas for this music festival. We ensure you will effortlessly find the 5 hottest Coachella outfits from Xpluswear and cheerfully shake your body with the musical rhythms in our stylish clothing in the Indio desert.
The sequin-style pieces are always on-trend wardrobe must-haves. The striking sequin feature adds sparkle and visual interest to your rave outfits. It easily turns your wardrobe from simple to gorgeous.
Thanks to its festive and party vibe, sequin clothing is a popular choice for the music festival 2023 and any important occasion. You will make a bold statement. One thing to keep in mind is to keep your accessories minimal because too much stunning detailing will create an uncoordinated look.
Go through the below sequin style options for your plus size concert outfits!
Plus Size Silver Party Mock Neck Long Sleeve Sequin Splicing Slim Fit Cocktail Party Maxi Dress [Pre-Order]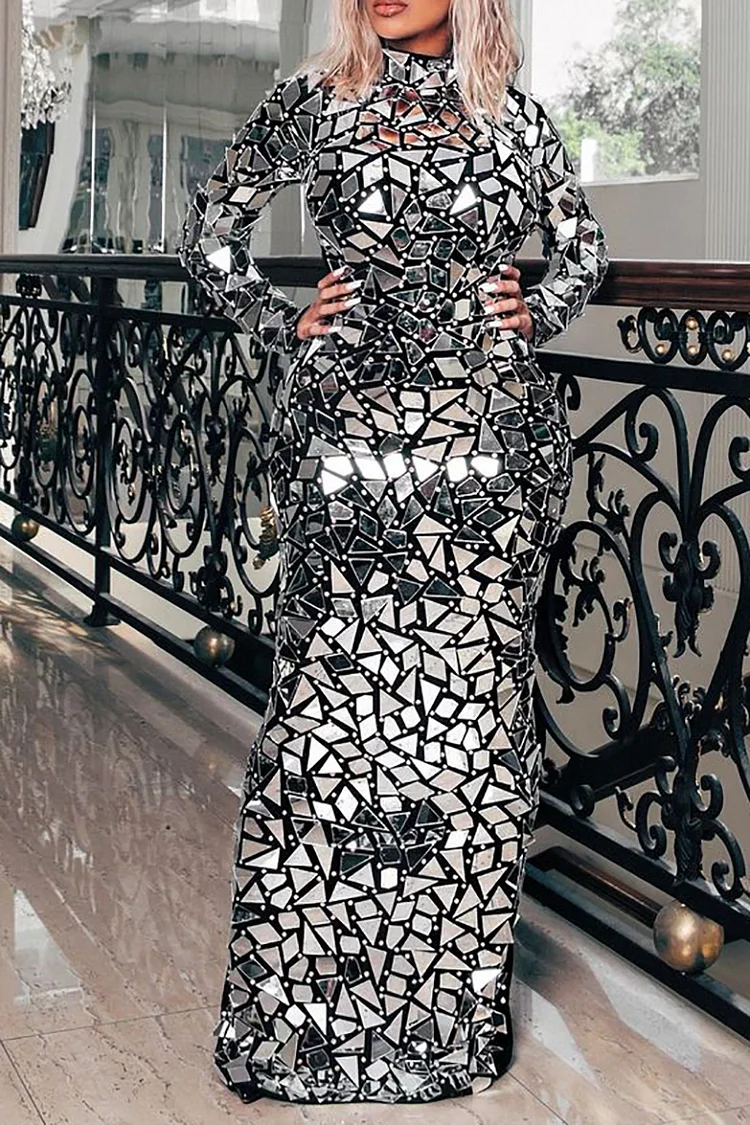 The sequin mirror dress has a flattering effect. It gives you a defined waist and emphasizes your curvy figure, giving you an alluring silhouette without showing too much skin.
It is easy to pair with earrings and heels for creating a classy and elegant plus size curvy rave outfit. It is the best bet for a music festival. It will make you shine in the crowd.
>>>>>>>>>>>>>>>>>>>>
Xpluswear Plus Size Party Glitter Purple High Waist Fold Leggings [Pre-Order]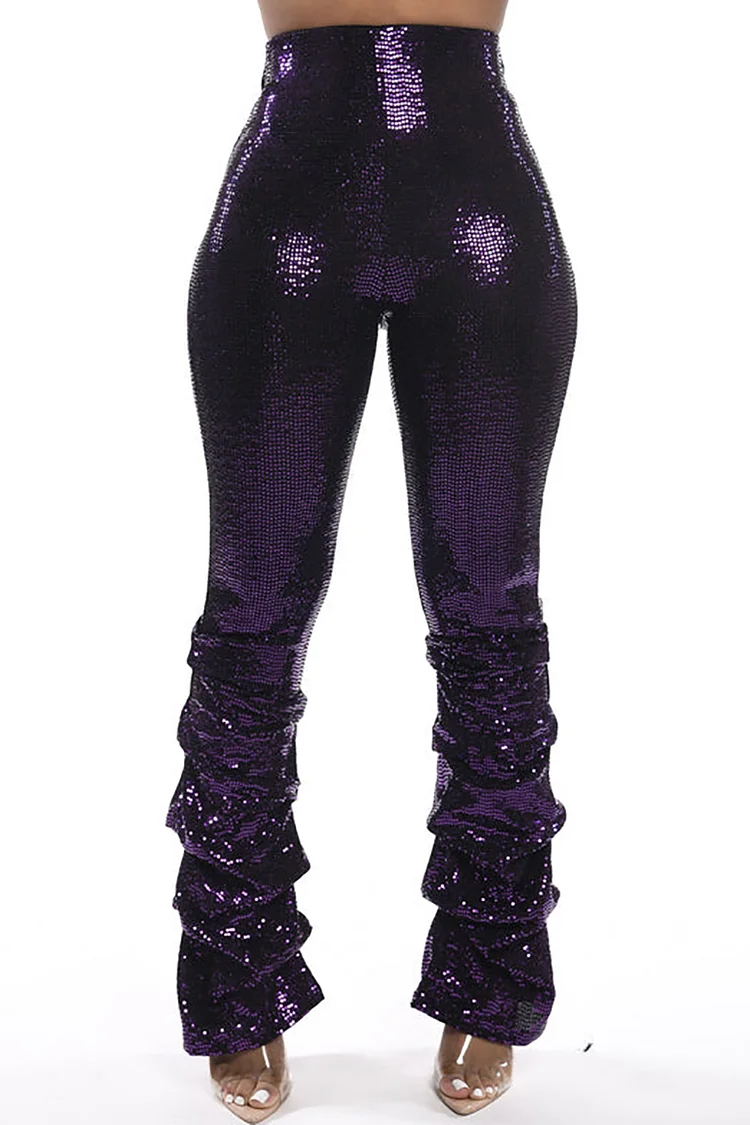 The high-waisted leggings work well for big bodies. It hugs your waist, hips, and legs comfortably without restricting your body too much. The rave outfit pants compliment the curves of your lower body and create a slim look.
The breathable fabrics will keep you cool and sweat-free in the heat. It is appropriate to wear it with a crop top or tank top and heels or heeled sandals to pull together an edgy plus size rave outfit for Coachella.
>>>>>>>>>>>>>>>>>>>>
Xpluswear Design Plus Size Party Reflective Sequin Batwing Sleeves One Shoulder Mini Dress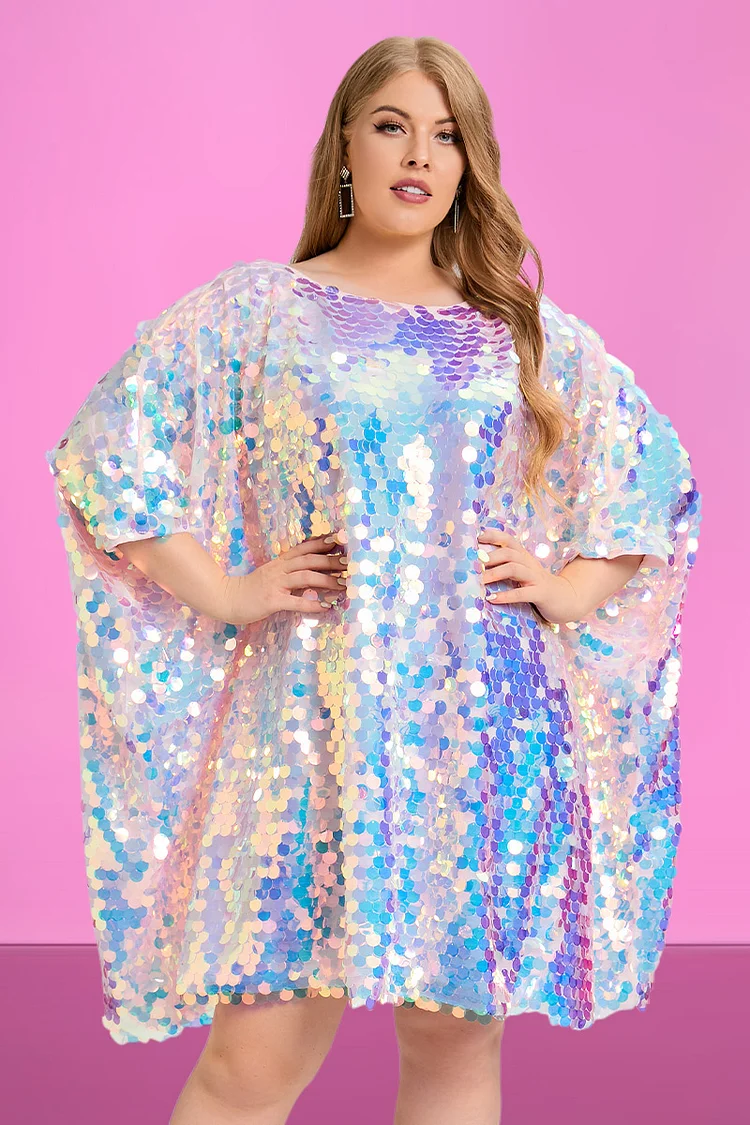 The plus size taylor swift sequin mini dress is made of iridescent round sequins that reflect different colors from different angles. The loose-fit dress hides your body flaws, such as your tummy, flabby arms, and wide hips.
Its mini-length visually adds length to your legs. The dress is super comfortable and breathable, not constricting your movement. It is a piece of cake to get a chic and attention-grabbing plus size concert outfit by matching the dress with heels and dangle earrings.
>>>>>>>>>>>>>>>>>>>>
💫Fringe Collection
Fringe collections are the most popular trends at Coachella 2023. It has a festive vibe and can break the monotony with ease. The fringe feature is a timeless fashion element. It brings fun and style to your look and makes you look more energetic.
You can dress it up or down with any item in your closet. The outfit will be feminine and stylish. The fringed clothing works for all four seasons and any formal or casual event. Without a doubt, it will capture everyone's attention.
Take a look at the following plus size taylor swift outfit with the fringe design!
Xpluswear Design Plus Size Party Gradual Tinsel Fringe Swing Outerwear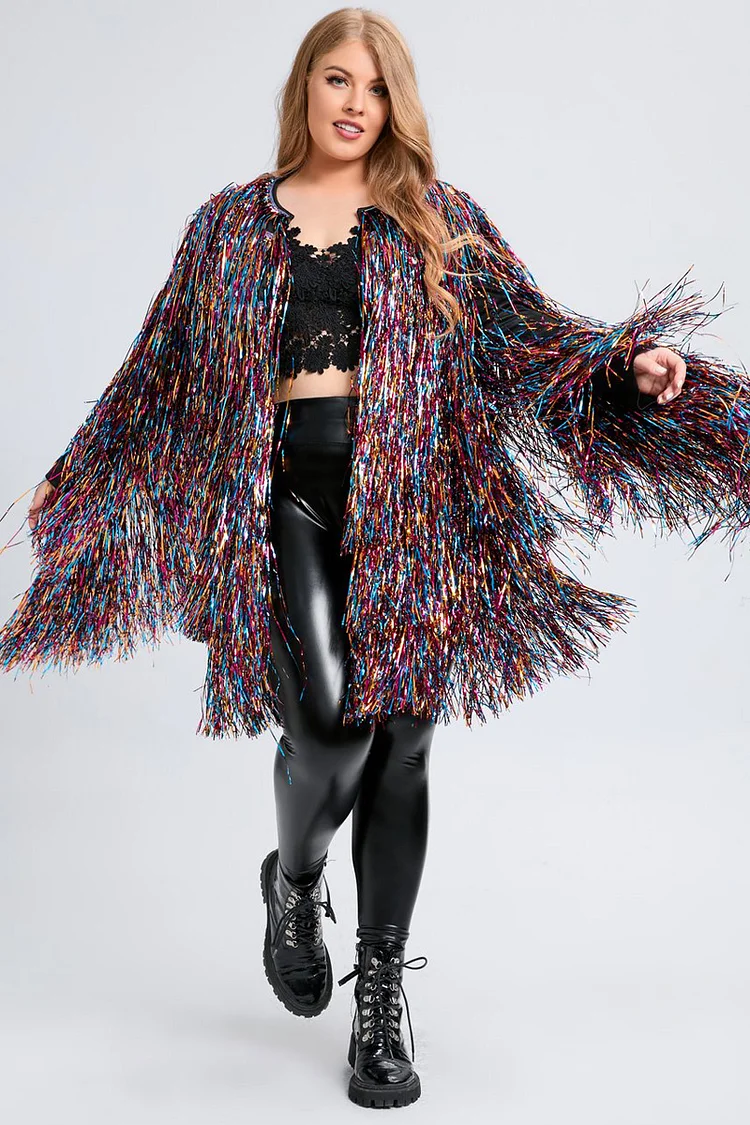 BUY IT NOW ! $87.99 (Save $42.00)
Need clothes for an upcoming music festival? Pick this tinsel fringe to outwear. It is a standout piece. The outerwear is made from the most beautiful multicolored rainbow tinsel, and this jacket is fully lined with the most fabulous soft holographic lining, so it will definitely not make you feel itchy.
It pairs well with a crop top or tank top, high-waisted leggings, boots, and multicolor fringe dangle earrings. You will make a statement at Coachella. The plus size concert outfit also works for cold weather.
>>>>>>>>>>>>>>>>>>>>
Xpluswear Design Plus Size Casual Blue Ripped Tassels Jeans Jacket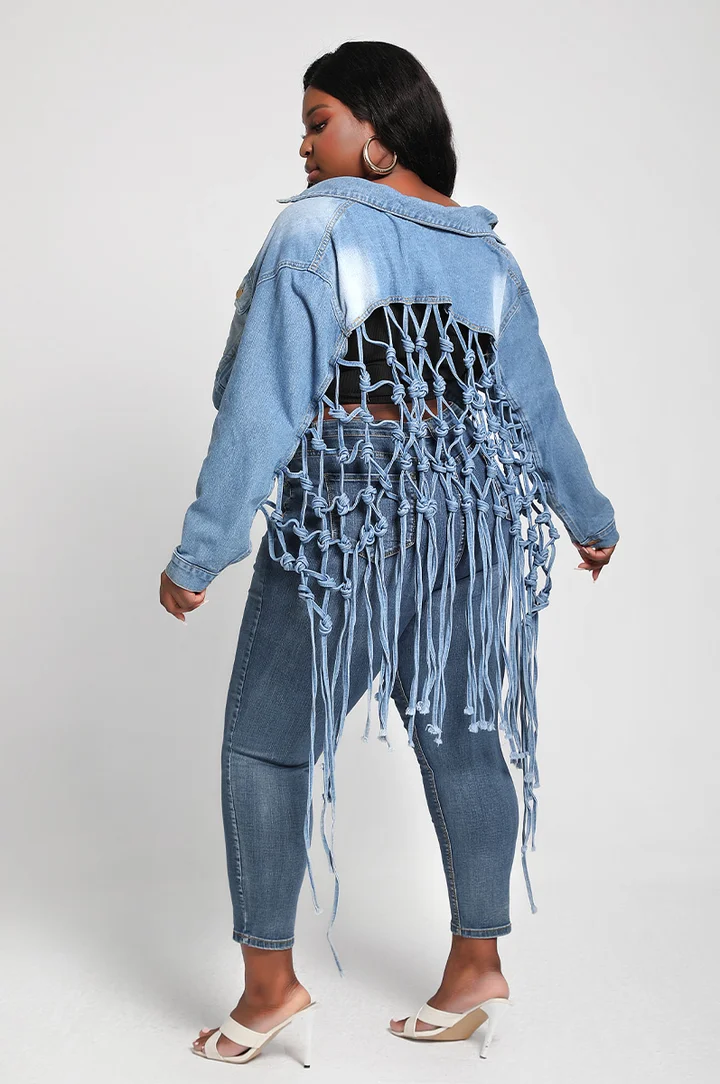 BUY IT NOW ! $49.99 (Save $16.01)
The jacket is featured a hollowed-out, long sleeves, an open back, and tassel detailing. It looks great with a tank top or crop top to show off your waist and skin.
It perfectly enhances your body's assets. You will have a longer figure by pairing it with high-waisted jeans or skirts. The plus size blue rave outfit will give you a balanced and proportioned look.
The effortlessly fashion-forward and casual ensemble will make you get noticed at the music festival in 2023.
>>>>>>>>>>>>>>>>>>>>
XPluswear Plus Size Party Sequin Fringe V Neck Backless Bodysuit Mini Dress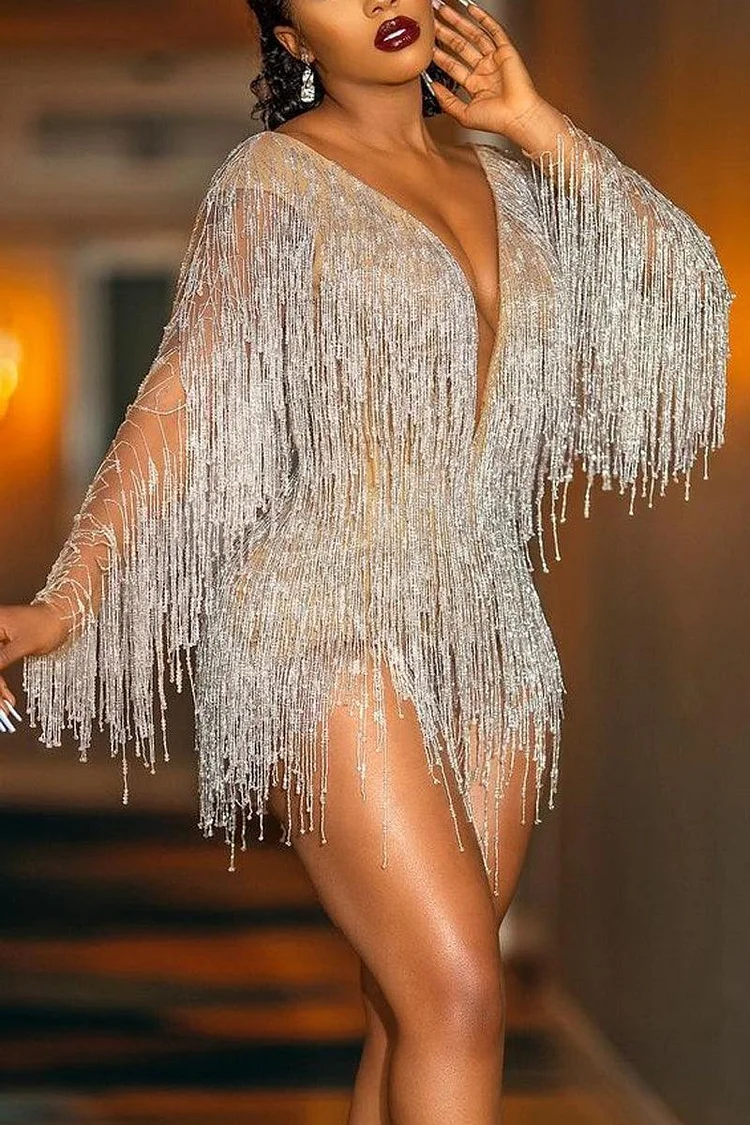 Featured with a deep v-neck, mini length, and backless design, the dress draws attention to your assets by showing off your beautiful cleavage and skin, accentuating your waist, and flattering your neck and legs.
It creates the illusion of a taller figure. The sequins make you stand out from the crowd. You can style it with heels to complete a feminine and glamorous music festival outfit.
>>>>>>>>>>>>>>>>>>>>
🎇Cardigan
Cardigans are a perfect combination of functionality and beauty. It will have an amazing layering effect and help add something chic when you wear a cardigan with a simple outfit.
Throwing on a breathable cardigan at the music festival will provide you with proper coverage and protect your skin from UV rays. In cold weather, a cardigan is exactly the thing you need to keep warm. It is an essential rave outfit part of your formal wear and daily wear wardrobe.
Now opt for your favorite cardigan for a complete rave outfit!
Xpluswear Design Plus Size Hot Pink Party Vintage Reflective Sparkly Iridescent Teardrop Sequin Split Jacket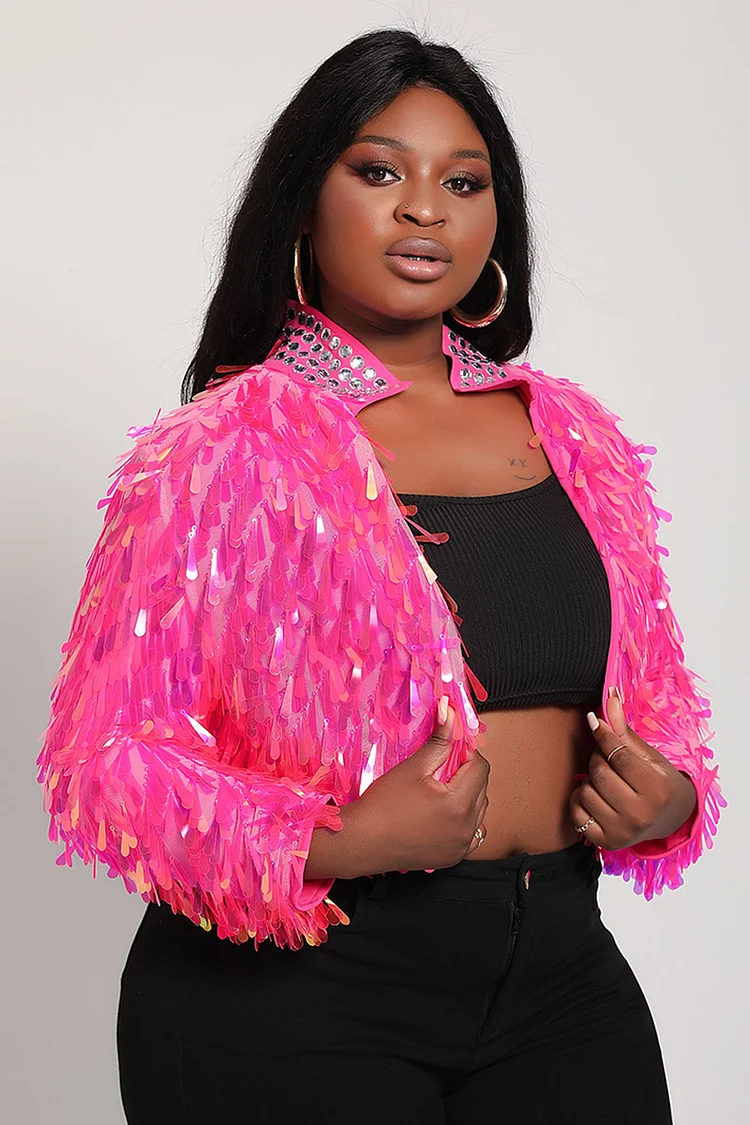 You will be the center of attention with this incredible Barbie pink sequin tinsel jacket. It is comfortable, lightweight, and lightly lined.
It has a soft, short collar, and is entirely covered with sequins. The vibrant color, luxe sequins, and daring design make the piece a go-to choice for Coachella 2023.
Matching a crop top with jeans or leggings will create a plus size concert outfit that will make you look like a million bucks and brighten your days.
>>>>>>>>>>>>>>>>>>>>
Xpluswear Design Plus Size Multicolor Party See-through Sequin Kimono Cardigans[Pre-Order]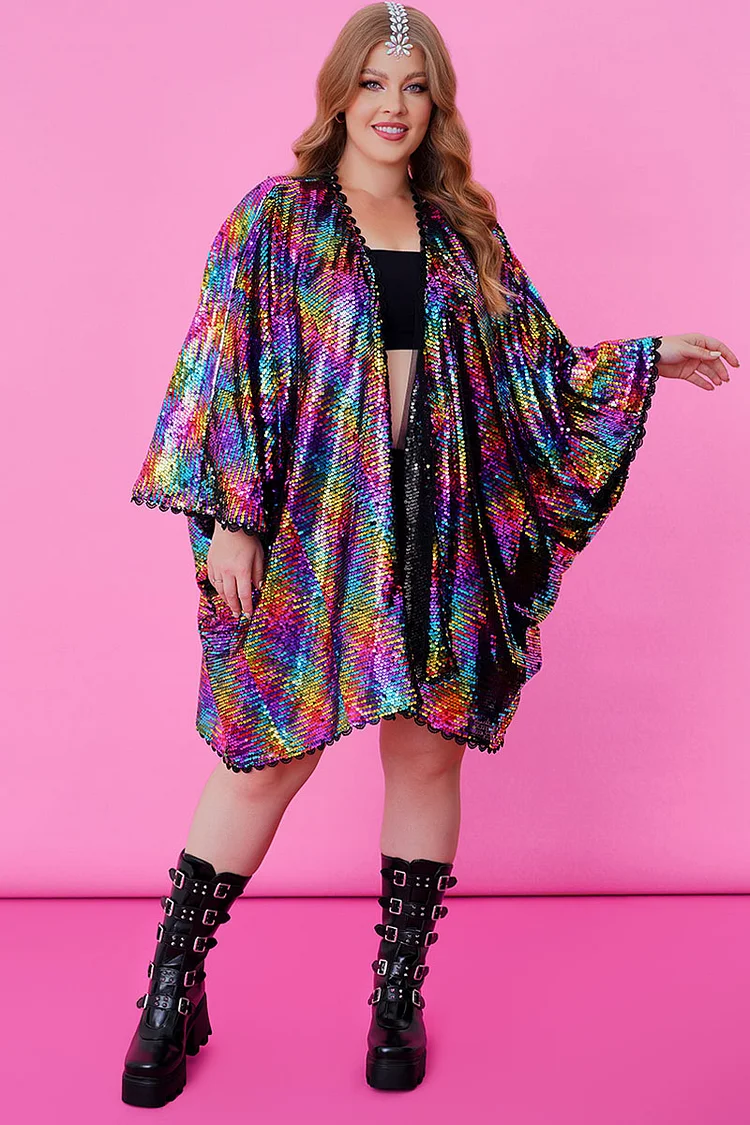 The cardigan is one of the must-have rave outfit essentials in your closet for the music festival in 2023 and other important occasions. It is flattering on your body by disguising your hips, fat arms, and midsection thanks to its loose fit style.
You can pair it with a crop top and boots to create awesome looks. Or wear a thick undershirt to have a winter rave outfit. The cheap rave outfit will turn you into an edgy goddess with minimal effort. You will be the focus of the crowd.
>>>>>>>>>>>>>>>>>>>>
Crochet Dresses are the way to go in the summertime. It is comfortable to wear and a flattering option for plus size bodies allowing a lot of movement. The hollow-out and tassel design offers a playful and flirty touch.
Crochet dresses work well with a swimsuit, slip dress, or nipple covers. Pairing some beach accessories will be a plus. It is great for the beach, pool, seaside, club, night out, etc.
Check out our two plus size summer crochet dresses below!
Plus Size Hand Made Long Sleeve Crochet Tassel Cover Up Dress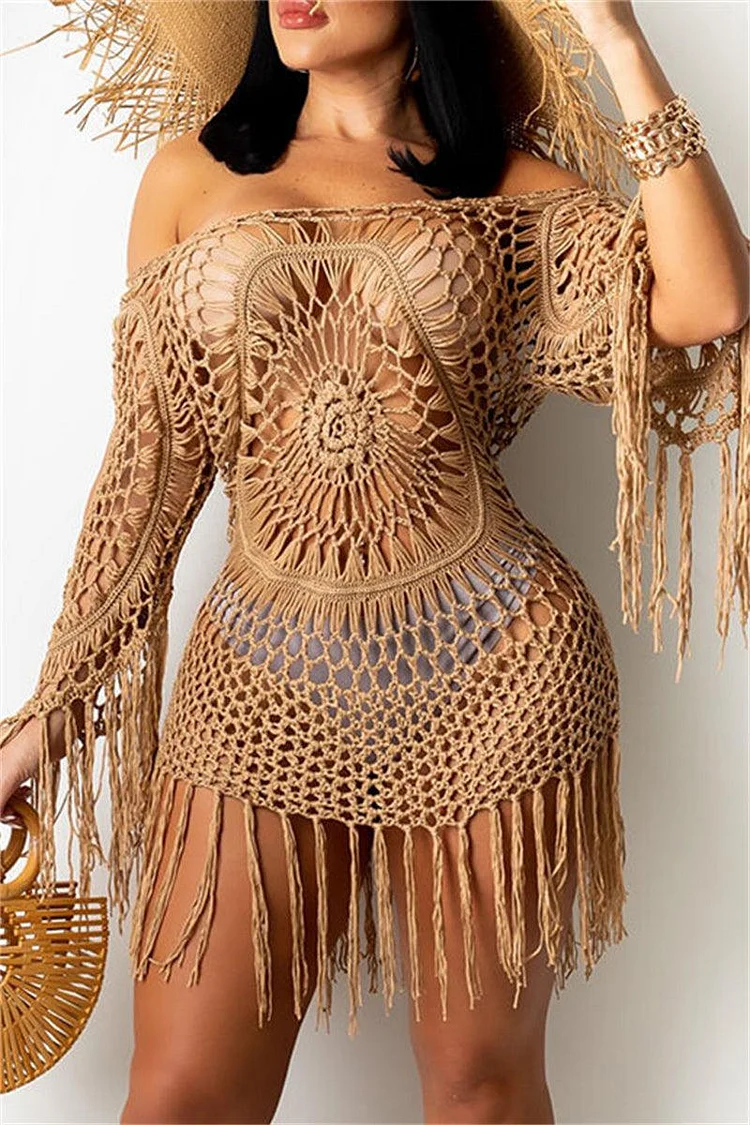 BUY IT NOW ! $39.99 (Save $20.00)
You can rock the crochet dress for a one-shoulder style or an off-shoulder look. It depends on your preference. The festival dress perfectly hugs your curves in the right places.
The hollow-out design will greatly increase your feminine charm and give you a sexy look. It is appropriate to wear a bikini with complementary colors and a straw hat. You will catch the eye in this plus size music festival rave outfit.
>>>>>>>>>>>>>>>>>>>>
Plus Size Hand Made Summer Sleeveless Hollow Out Crochet Tassel Cover Up Dress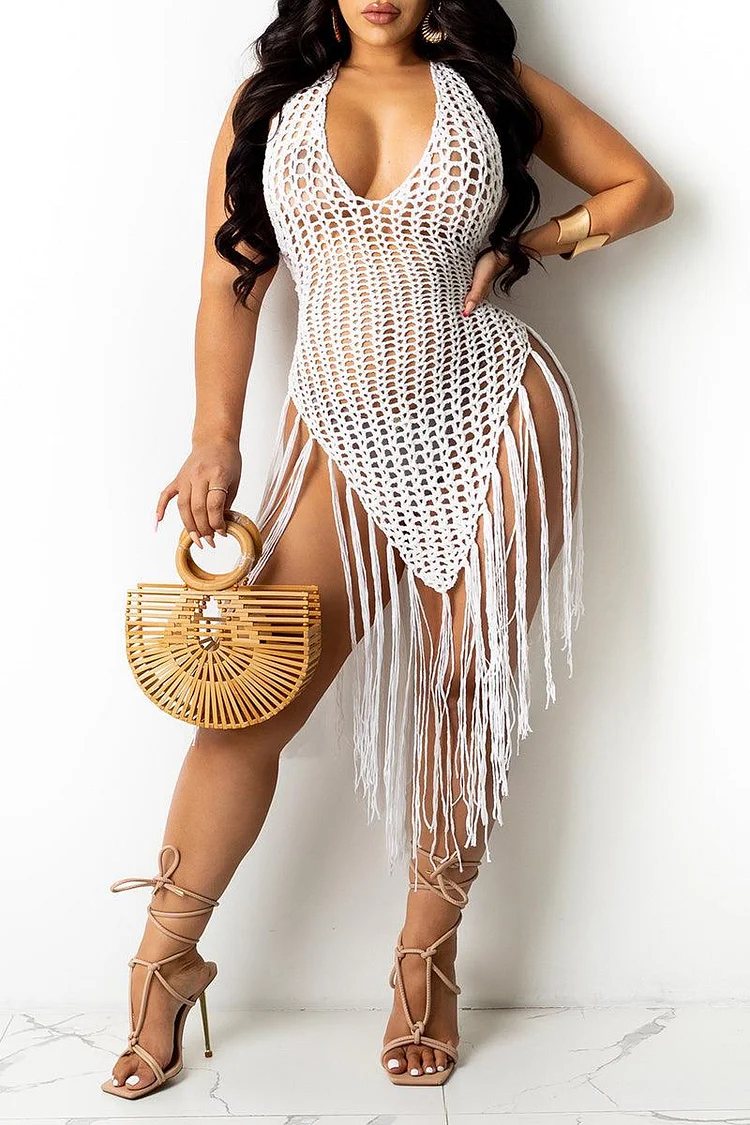 BUY IT NOW ! $9.99 (Save $30.00)
The cover-up dress with a deep v-neckline draws attention to your sexy cleavage and visually elongates your neck. The sleeveless and hollow-out features show off your skin and balance out your torso.
It will create a slimmer and longer silhouette. It can be matched with a rhinestone bracket t body chain and heeled sandals. The spring awakening music festival outfit will give you a cool and appealing look.
>>>>>>>>>>>>>>>>>>>>
Accessorizing rightly will pull together a cohesive outfit and spice up your look. For example, a straw hat is functional for keeping your head cool. It is a top pick for beachwear because it gives a more casual feel.
Additionally, a bracket body chain will give your cleavage a definition. Dangle earrings make your face and long neck the focus. Accessories can add a finishing touch to your ensemble. They really make a difference in your outfit.
Explore the following rave outfit accessories for the music festival outfit!
Fashion Rhinestone Plating Bracket Body Chain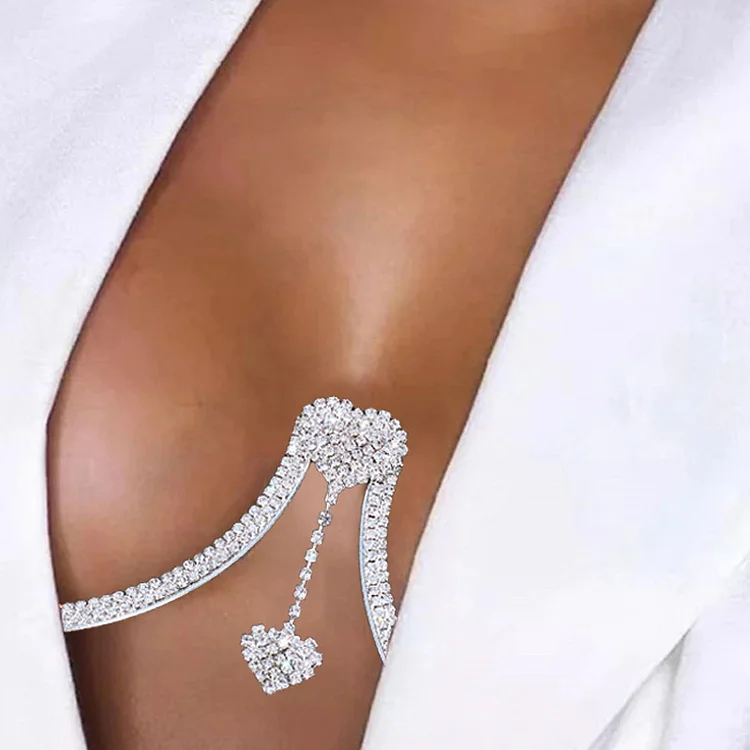 The rhinestone bracket body chain is an excellent complement to a swimsuit or clothing with a deep v-neckline. It is used to put emphasis on your cleavage, and slender neck and gives you an instant feminine charm.
It will not hurt your skin and will fit in the right places. It is an essential part of your plus size music festival outfit, as it will make you the head-turner at Coachella 2023.
>>>>>>>>>>>>>>>>>>>>
Fashion Multicolor Fringe Dangle Earrings
Choosing the right accessories will do wonders for your look. So do not pass up the multicolor fringe dangle earrings. It flatters your face shape and lengthens your neck.
It is a pretty blend of style and drama. Wearing these earrings will add sophistication and elegance to your look. It can work well with anything and will make you breathtakingly beautiful at the music festival in 2023.
>>>>>>>>>>>>>>>>>>>>
Vacation Beach Hat Festival Sunscreen Straw Hats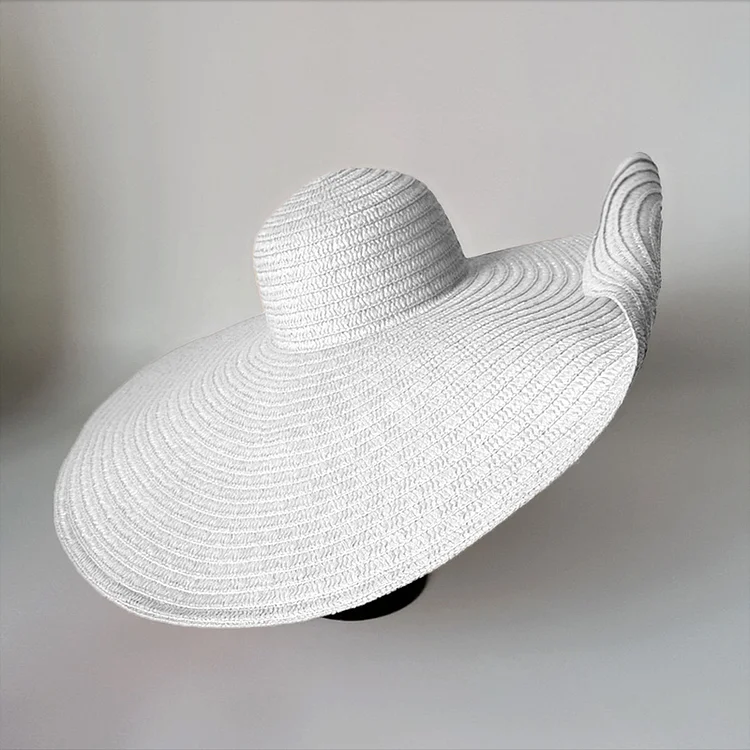 The straw hat is breathable and lightweight. It fits your head properly and provides comfort. The wide brim design makes it a perfect option to protect you from sunburn on a burning hot day.
You can match this music festival straw hat with any outfit. It is a fashionable addition to your ensemble. When you want to elevate your look, look for a music festival, and always consider this beach straw hat.
Final Thoughts
These unique plus size taylor swift outfits are well-designed to fit plus size bodies. To make you take others' breaths away at the music festival, they are featured with some eye-catching fashion elements, such as sequins, fringe, tassels, and so on. It is a piece of cake to complete a gorgeous look with these pieces. Plus, you will not go beyond your budget.
Now, have you decided on which outfit to go with for your music festival?